Welcome to our favorite place in the world
We went for a month every summer and we knew it wasn't long enough, in fact, we asked ourselves how we could share our very own slice of paradise with you. So, we created Principe di Salina.

Salina is a tiny island of 26,1 km², north of Sicily, in the Mediterranean sea and part of the Aeolian archipelago.
Our goal is for you to fall in love, as it happened to us many years ago.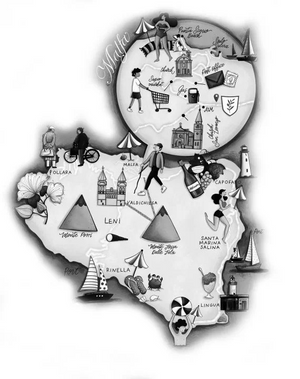 Why Salina is simply the Best?
One of the seven pearls of the Aeolian Islands, Salina is situated in the middle of the archipelago and is an ideal starting point for anyone wanting to explore the islands.

The island of Salina derives its name from an old lake that was once used to produce salt. It is characterized by two volcanoes: Monte Fossa delle Felci and Monte dei Porri.
Salina is divided between three comuni: Santa Marina, Malfa and Leni. From Leni down towards the sea is the village of Rinella. The other smaller villages are Capo Faro, Pollara, Valdichiesa and Lingua.
There are approximately 2,600 residents living on the island. Its total surface area of 27 km2 & it is included on the World Heritage List. From a distance, Salina looks entirely green with two rounded high mountains and a smooth coastline.
HOW TO REACH SALINA