Open your window, waking up at the Principe is a dream.
Each day the sun rises in between Stromboli and Panarea, and the sunlights illuminate your bedroom terrace, infusing us all with serenity and effortless beauty.
Terraces overseeing the sea, comfy mattresses, and black-out blinds for your best night's sleep.
Your bedroom with a view of the Aeolian Sea
From the moment you step into your Principe di Salina room, you'll be charmed with the magic of Sicily - warm, welcoming colours, locally-made furnishings, and rustic white touches.
Each bedroom is elegantly appointed and features a private terrace overlooking the Aeolian Sea, where you can unwind at the end of the day and experience the stunning sunsets, with Stromboli and Panarea on the horizon.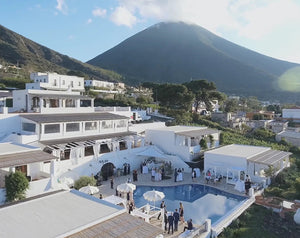 Suites
At the highest floor of the main house.
Top Floor
In the separate blocks right & left of the pool, overseeing it from above from the top floor.
Superior
In the separate buildings right & left of the pool, at the garden level.
Garden - Sea
In the separate buildings right & left of the pool, garden level. They offer a more lateral sea view.
Stay Details

Check-in / out
Check-in after 2:00 pm and check-out before 11:00 am. If you arrive or leave later, you can leave your bags with us and enjoy your time in the hotel.

Breakfast
Buffet breakfast is included in all our room rates. It is served at our Restaurant from 8 am till 10.30 am. We are happy to complimentary serve you breakfast in the room, upon informing Reception the evening before.

Cancellation Policy
Our Best Available Rate offers flexibility with free cancellation up to 30 days before arrival. Non-Refundable and Package Rates do require full prepayment to secure at the time of booking. When payment is non-refundable, no amendments are permitted.
Extra Bed
Our bedroom ideal size for two. The additional bed, which can be arranged upon request at the moment of the booking, is charged an additional euro 50 per night for breakfast and bedding. 

Room Service
Enjoy complimentary room service for all à la carte Pool Bar menu, including light lunch, aperitif and happy hour.

Parking & Taxi
If you are travelling by car, the hotel has a private car park on-site, complimentary to our guests. Taxi / or Hotel transfers are available for euro 25 each way to/from the port of Santa Marina. Kindly contact us for rates and reservations.
Questions & Answers
Our rooms design and spaces are similar and they all feature a private terrace. What differs is the view, which is always facing the sea but in different ways: the Top Floor have a frontal sea view and is positioned at higher floor; our Superior also feature a frontal sea view but from the garden floor so you can enjoy the nature; the Garden-Sea rooms are facing the Stromboli side, and offer a more limited, lateral sea view. 
Finally, our Suites are positioned on the highest floor of the main house. Their size and features differs from all the other rooms, being larger and more luxurious.
Our rooms are in four blocks of three each, two of them are higher and are our Top Floor rooms – the others are on the garden floor, and they are our Superior and Garden-Sea. Our Suites are on the highest terrace of our main house. 
All our rooms are thought for two people. We want you to enjoy them, so we always suggest to use them as such. In some of them, we can add a third bed (upon request and depending on availability).
Our suites, instead, offer an open space of 60sq meters, they are also though for a romantic couple gateway but they can accommodate up to four people (2 extra beds).
Yes, it is. We adore children, but we pride ourselves to have a very quiet and relaxing atmosphere. Also, our pool gives some legal restrictions being very deep and with no fences.
That's why we have decided to welcome bookings of children over 12 years old and we keep a max quota of 1 per booking.
Our Suites are an open space designed for two people. We can set up the living area with two extra beds, and the space can be separated with a curtain.
However, privacy is limited: there is only one large bathroom, the shower has a glass wall and the space can't be perfectly divided. If you would like to have more privacy, we suggest to book two double rooms.
If your dog is used to travel, share with us the picture and ask if we can welcome him/her. Before saying yes, we need to double check no guests have allergies, if other animals are in the Principe already and if we have a lateral room available.