We are going to make Magic happen
The Principe is like that Mediterranean villa you always dreamt about, a island home giving you a sense that anything might happen. Yet this exciting is underpinned by our excellent team who will have everything planned to the finest detail. Being it a holiday, or a special event.
Whether you're planning a party big or small, or the perfect holiday gate away, the Principe offers the perfect space for you, with a list of always updated services and options. 
Think of us as your new holiday wingmen.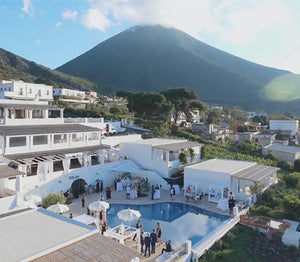 Weddings
Want a special space to celebrate your next big occasion? Let's make magic happen at the Principe. We'll work closely with you to create a personalized layout and plan for your party.
Private Rental
Make the Principe your own private villa on Salina, inviting up your favourite 35 people. If you're planning a big old get-together, why not hire the whole space? Twelve rooms, two suites, personalized menu and services.
Retreats
Made up of four different levels developing around the pool, two bars, and one open plan terrace which flips to a relaxing lounge, we are the ideal spot for your group gate-away.
REQUEST PROPOSAL